Mixing Modern And Antique Furniture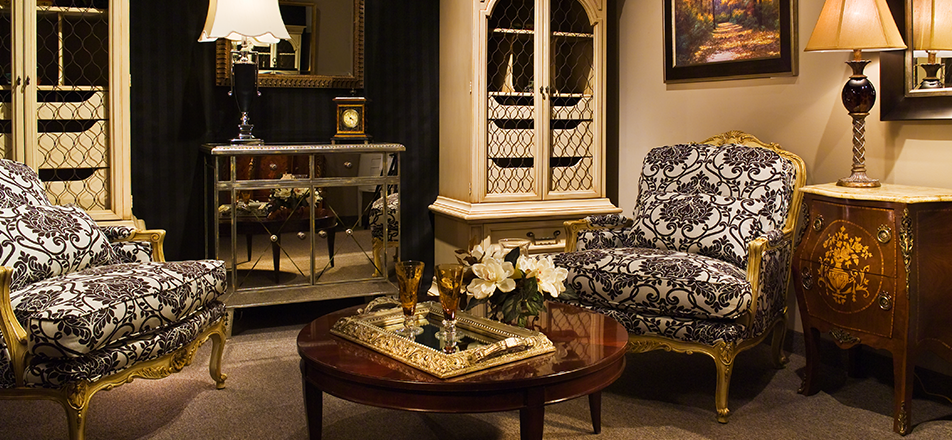 Combining modern and antique furniture can make an impressive statement of style if you achieve the right balance and tone. Knowing exactly how much to keep simple and where to introduce the drama is the key to success.
Understand Design Terminology
Antique
Antique furniture pieces refer to collectible items with high value due to their age. Items are typically considered antique when they are over 100 years old.
Vintage
These are furniture pieces or designs from a previous generation. A true vintage furniture piece will be over 50 years old.
Traditional Design
Traditional furniture design is characterized by comfort and elegance. One unique feature of traditional furniture designs is the dark wood tones, including black, espresso, and cherry. It also utilizes fabric and textiles like silk, velvet, and leather. Traditional designs are excellent for those who cherish classic arts, symmetry, and antiques rich in history.
Modern Design
Modern design refers to furniture pieces that originated in the late 19th century up to the vintage look of the 1970s. It focuses on basic colours, functionality, simple shapes, and clean lines. Although modern furniture styles began with design movements like the German Bauhaus, it has continued to evolve for decades. Modern designs are characterized by materials like wood and metal.
Modern Vintage
Modern vintage furniture features a blend of old and new designs. Modern-vintage furniture can add an authentic and sophisticated style to your home or office. To achieve a modern vintage look, you need to strike a beautiful balance between vintage charm and clear lines. Bring fantastic personality and character to your living spaces with rich textures, tones, and patinas.
Rustic Designs
Rustic design tends to focus on the natural. It is inviting and cozy and helps bring natural elements into your home. Rustic designs incorporate organic materials such as canvas, wood, stone, and burlap, usually in raw or unfinished condition. Rustic design can also include other styles such as farmhouse, coastal, country, and cabin.
8 Things to Consider When Mixing Modern & Antique Furniture
Some of the most appealing interiors can't be pinned to a specific decade or era but instead combine the various elements from the broad spectrum of home design. Below are some tips to guide you when mixing modern and antique furniture.
Find the Right Balance
A home should not be a catalogue of coordinated furniture but rather a collection of things you love and find meaningful. As such, when mixing modern and antique furniture, anything goes. That said, it helps to spread styles around the room so that the contrast between new and old feels surprising and fresh rather than shabby. Consider scale when placing furniture, particularly antique. Most heavy and dark wood pieces are best placed on or near a wall, while leggy and light pieces should be placed next to items with more mass. Finding a balance in proportions across the room allows you to run wild with prints, finishes, colours, and styles.
Form Versus Function
Antique furniture often displays fine craftsmanship that is harder to come by today, featuring intricate wood carving, decorative flourishes, or marquetry. In this case, mixing modern and antique furniture requires you to consider both function and form. The key to success is playing with your lines, making sure to have a healthy mix of curves and streamlined pieces. You can also add a few metal finishes to help enhance the design.
The 80/20 Rule
The best way to mix two styles is to follow the 80/20 rule. That is, to go with predominantly one style and then add accents of the other. For example, you might go with 80% modern furnishings and then add a stunning crystal chandelier or vice versa.
Unify with Colour
Most people often struggle with maintaining cohesion as they mix old and new styles. After all, even the most eclectic interiors need harmony and balance. In this regard, most people have found that the easiest way to integrate different elements is to unite them using the same colour palette. This makes it easier to marry periods and styles by keeping the focus on them.
Statement Pieces
If you want to achieve maximum impact in a modern room with antique furniture, go large and bold with statement pieces like a vintage farm table, an antique armoire or an Art Déco or Baroque-style headboard. You can then modify these pieces to make them more functional and give them a sense of modern comfort. This is a particularly excellent strategy for neutral space that needs a focal point or a sense of drama, juxtaposition, or contrast. This strategy also works for large-scale decorative pieces like a massive vintage rug or giant French gilded mirror while anchoring an otherwise contemporary living room.
Accent Pieces
Not everyone wants to or can create large-scale contrast with striking statement pieces. There is also the option of starting with small antique furniture pieces like wooden stools and end tables or decorative antique pieces like lighting fixtures, décor items, and rugs. You don't have to feel intimidated when buying antique furniture.
Here are some simple tips to keep in mind:
Avoid the clichéd look: Gone are the days when everything had to match. Combining antiques with contemporary elements not only breaks up the monotony but also helps personalize the décor and style. So avoid putting all that family furniture you inherited into just one room.
Consider the overall look of the room: Plan your décor keeping in mind the architecture, lighting and size of your room. Dark wooden furniture in a small room that has poor lighting will give it a sombre appearance. You might consider brightening it up with lighter colours or patterned upholstery. Consider adding antique mirrors. This will give your room depth and brightness while also functioning as an elegant piece of art.
Choose one or two items to give your décor that extra pop: Place a decorative Queen Anne's arm chair or a Victorian settee in your living room, a Chippendale hutch in the dining area or a Georgian chest of drawers in your bedroom. Don't overdo it or it will look like a chaotic mismatch of styles.
Pick styles that relate or complement each other: Modern furniture typically has clean lines. An ornate antique piece becomes the focal point of attention and adds drama to an otherwise simplistic décor. But it is important to keep size and scale in mind so that it doesn't look out of place.
Furniture reupholstery for a bright and fresh look: Sometimes all it takes is new upholstery and a touch of polish to give your family heirlooms a new lease on life. It can also help you fine tune the look to achieve a perfect balance of your antique and modern furniture.
Repetition Is Key
When mixing antique with contemporary or modern furniture, you do not have to mix everything exactly. However, modern antique furniture pieces should be united using one or more similar attributes. This can include a repeated pattern, similar material, or common colour scheme. Too many unique style elements can make the room look busy instead of cohesive.
Pick a Dominant Wood Tone
When mixing modern and antique furniture pieces, you can use different woods. Ensure that you select a dominant wood tone, usually the wood on the largest item, and try to select other pieces that go with it. It helps to determine whether it has cool, warm, or neutral colours. Cool tones are blue, green, or greyish, while warm tones appear yellow, orange, or red. Neutral undertones tend to be beige and blend well with both cool and warm wood tones.
FAQs on Mixing Modern & Antique Furniture
How can I display antiques in a way that feels modern?
One way to bring a more modern approach to a space with antique furniture is by how you display them. For example, if you have a group of vases that are all the same height, you can display them on different-sized pedestals so that they look unique and distinct. Additionally, you can also mix up the colours of your antique pieces by pairing them with bold prints or modern artwork to give a fresh and updated feel to your space.
What can I do to add stability when mixing modern and antique furniture?
If there's no rhyme or reason to how you're mixing modern and antique furniture, it can create a visually cluttered look. You can add stability through repetition. For example, a single antique end table in the corner of a more modern room is going to look odd and out of place. But having two such end tables in the same room will add balance to the design.
Can Carrocel provide recommendations on how to mix different furniture styles?
Yes, our experienced team of interior design professionals can provide recommendations on how to mix modern and antique furniture. Whether you're looking for unique and interesting pieces or want something more classic, we'll work with you to create a space that makes your home comfortable and stylish.
Do you sell both antique and modern furniture?
Yes, we do. We sell a wide range of antique and modern furniture. We also have a large selection of one-of-a-kind pieces that will add a unique touch to your space. Visit our 20,000-square-foot showroom to browse our lifestyle displays in person.
Your One-Stop Destination for Antique & Modern Furniture
If you are looking for antique and modern furniture pieces, Carrocel – furniture store Toronto has a great selection. We have a wide range of furniture pieces in various styles to help match your preferences and existing décor. Our modern antique furniture selection is constantly changing and growing, so you can always find new and appealing items to explore. Our friendly team can help you match the ideal antique and modern pieces to complement your home décor and existing furniture. Contact us today or stop by our showroom.
Also Read: